ABOUT ME
A love of magic
Stuart performed his first professional show in 1990, and started big by catching a bullet in his teeth and escaping from a straight jacket. The straight jacket is still in the act, but the bullet catch generally gets banned from most venues. All requirements of performance can be catered for, if you need a stage show, intimate cabaret, close-up magic around tables, walk around, and now also magic by Zoom.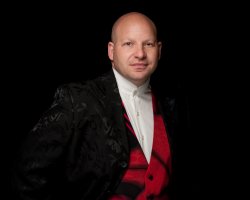 Also many styles of magic or escapology can be performed, for example it's possible to create something specific for your trade show maybe using your logo or even a copy of your annual report.

Whilst based in the UK, Stuart has performed in the US, Dubai, Kuala Lumpur, Singapore, Italy, Portugal and more. Of course now with Zoom the whole world is within easy reach.

Stuart is a member of:
GALLERY
Here are some photos of my favourite events.